Tabung Haji drops office rents below prevailing rates near KLCC
Tabung Haji drops office rents below prevailing rates near KLCC
By Vasantha Ganesan | May 16, 2016 2:00 PM MYT
A RECENT move by Lembaga Tabung Haji to lease its office space in Menara TH Platinum at Platinum Park, Kuala Lumpur, at way below market rental rates caught everyone by surprise and shocked real estate agents and office building owners. At RM5 psf, the rate is less than half that — about RM11 psf — fetched by Petronas Tower 3 and Integra Tower @ The Intermark, which are located nearby.
According to industry experts, RM5 psf is arguably the lowest rent in recent times for a new Grade A office building located within the Golden Triangle.
About two weeks ago, the pilgrim fund's marketing and leasing division sent out letters to real estate agents, alerting them to its special leasing package that included a list of perks. Subsequently, advertisements were placed to invite interested parties to an Open Day at the 38-storey Menara TH Platinum this week.
The Edge understands that Menara TH Platinum, acquired for about RM450 million, has been empty for over a year. The building, which neighbours NAZA Tower, was acquired by Tabung Haji from Naza TTDI Sdn Bhd in 2009 with the sale completed in the first quarter of 2014.
Tabung Haji's latest move has raised questions as to whether the office oversupply situation in Kuala Lumpur is worse than thought (see chart). One thing is for certain — it continues to be a tenant's market.
"As much as we agree that there is an oversupply in the market, the bigger impact has been on the older buildings. Newer buildings, after a six-month to a year cycle, generally attract tenants that are upgrading or are new in the market. The Intermark and Menara Hap Seng are good indicators with more than 80% occupancy. In fact, Hap Seng is building Menara Hap Seng 3 [in Jalan Sultan Ismail] four years ahead of schedule due to strong demand for good quality buildings. And this is not even within the KLCC locality," Shuchita Balasingam, head of mergers and acquisitions-business space at Zerin Properties, tells The Edge.
"Older buildings that are well managed, especially of companies that are focused on management and marketing, are also showing good occupancy and rents. UOA Bhd and IGB Bhd are good examples."
Menara TH Platinum is a 38-storey tower with 348,267 sq ft of net lettable area and 362 parking bays.
At press time, Tabung Haji had not responded to questions sent by The Edge.
Its advertisement, however, states that it will be holding an "Open Day Menara TH Platinum 2016" on Wednesday (May 18).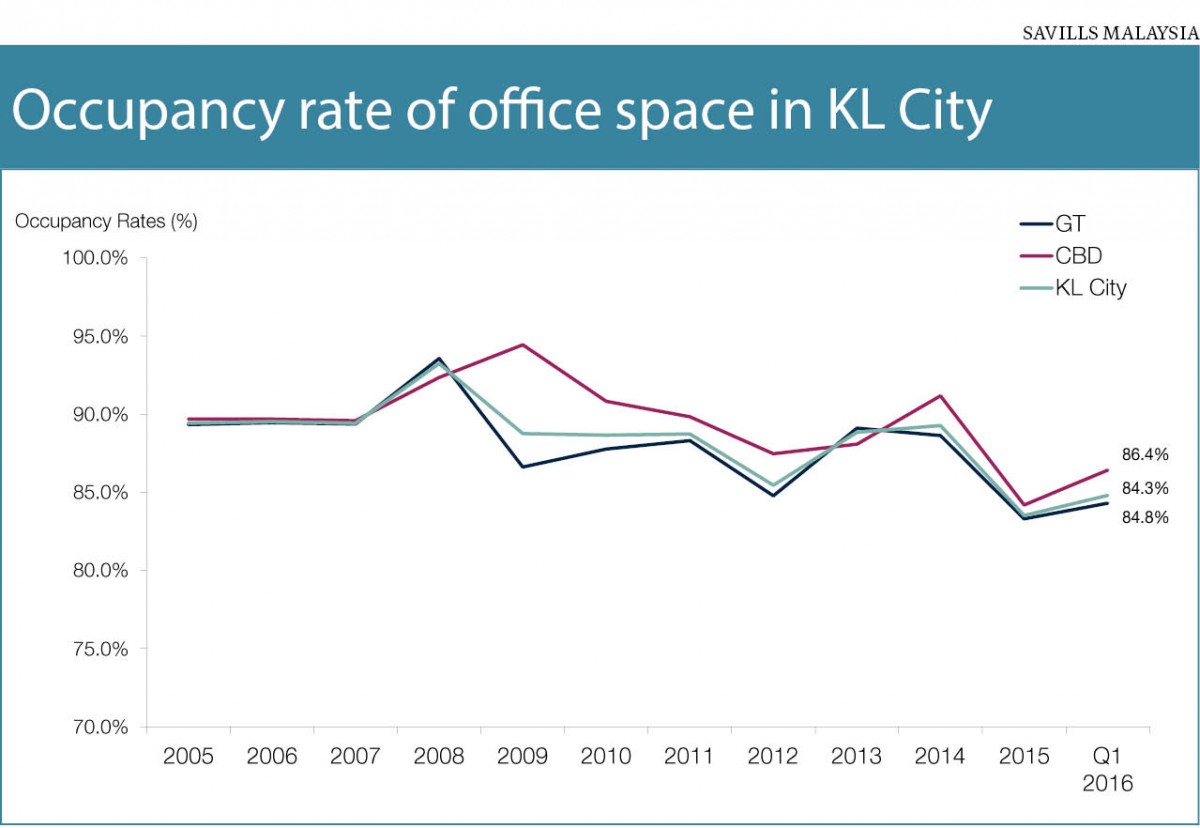 Apart from the RM5 psf rent offer for the first six floors of the building, tenants do not have to pay rent for up to six months during their renovation period. In addition, they get one free parking bay for every 1,000 sq ft of space leased. To further sweeten the deal, the rental deposit can be paid in instalments.
This offer, the advertisement says, is until Dec 31 or until all six floors are rented out, whichever is earlier.
One real estate agent says if a tenant rented 1,000 sq ft in the building at RM5 psf for one year, "with the six rent-free months, the rental rate would be just RM2.50 psf for 12 months".
Shuchita remarks, "This building is in a prime location [and is] Grade A. So, we don't think Tabung Haji should be dropping the rental rates. There are many other ways in which one can market this property intelligently.
"Low rents will attract tenants of low quality and thus impact the investment value of the building. We feel that the building should be fetching RM6 psf at the base line. NAZA Tower next door, which is using professional property agents as its exclusive marketing channels, is asking for RM7.50 to RM8.50 psf."
The RM5 psf, real estate agents say, is inclusive of service charge, which is for the upkeep of the main building and the common areas. The rate also includes the taxes to be paid by the landlord to the local council and for security for the building.
The agents believe that should a tenant want to take up more space and on the higher floors, Tabung Haji is likely to accommodate their request on the same terms.
They say in the first quarter of this year, Menara TH Platinum was asking for RM6.50 psf for the low floor zone and RM8 psf for the high floor zone while NAZA Tower was asking for RM7.50 psf, though it would have gone down to RM6 psf to RM6.50 psf to conclude a deal.
The letter from Tabung Haji's marketing and leasing division sighted by The Edge also invites real estate agents to its Open Day to familiarise themselves with the pilgrim fund's assets in the Klang Valley, which include TH Selborn in Kuala Lumpur and Menara TH Glomac in Petaling Jaya.
Agents who sign on a new tenant in any of Tabung Haji's buildings will be given two months' commission. Incidentally, The Edge has learnt that Menara TH Glomac may also have been vacant since last year. The building was purchased for RM170.73 million.
While two months' worth of rent as agency fee is not unusual, industry experts say this normally happens when landlords are under pressure to secure tenants.
A question that begs to be asked is, will Tabung Haji's move cause a domino effect in the rental rates of office buildings with poor occupancy in Kuala Lumpur?
One agent believes there will not be a ripple, although desperate building owners with no holding power or strong fundamentals may follow suit. The quantum of decline may, however, differ.
"The average rental rate in Kuala Lumpur will most likely remain the same, although the landlords of some of the older buildings may reduce their rents," says another agent.
Another question that arises is, will NAZA Tower, which is believed to be more than 75% vacant, follow suit? Real estate agents say they would not be surprised.
Other assets owned by Tabung Haji in Malaysia include Columbia Asia Hospital in Section 13, Petaling Jaya; Mydin hypermarket in Meru Raya, Ipoh, Perak; the Tabung Haji headquarters in Jalan Tun Razak; Block D of Plaza Sentral; and Bangsar South Tower 2A.
Last week, it was reported that Tabung Haji was planning to sell 10 Queen Street Place in London for an estimated £200 million. Last year, it sold an office building in 151 Buckingham Palace Road to Gaw Capital Partners for £250 million.
Source : The Edge Property